Features
Skip the logos of ASCII/Enterbrain [RM2k only]
Manipulate the title screen:

Set the cursor to the second entry by default
Swap the meaning of "Exit" and "Load" [RM2k only]
Display "Load" never gray even if there is no save file [RM2k only]
Allow activating "Load" even if there is no save file [RM2k only]
Only show first and second entry (you can have "Start" and "Exit" without "Load" then, by also exchanging the meanings of "Exit" and "Load") [RM2k only]
Change the position of the choice window

Manipulate the game menu:

Hide gold window
Hide menu entries [RM2k only]
Change the color of the menu entries [RM2k only]

Hide HP and/or level in the save/load menu [RM2k and RM2k3 v1.04]
Change the position and size of windows in BS, in order to make the design look better [RM2k only]
The tool does only support RM2k v1.07 and RM2k3 v1.04/1.08 (partly).
English translation
Unfortunately, this tool is only available in German. But the meanings of the options are described here, so you should be able to use it anyway.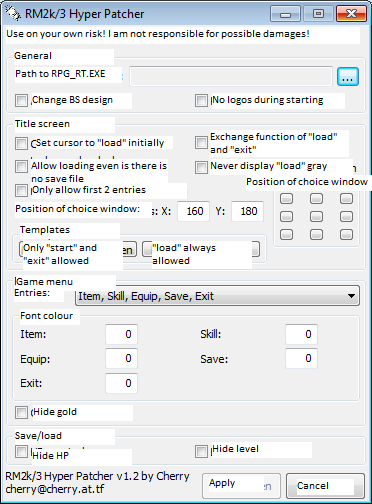 Screenshots
Source code
You can download the source code (written in FreeBASIC) here. License is GPL.