New patch: RM2k3 NoAutoBattle-Patch
This patch removes the choice window (Fight/AutoBattle/Run away) in battle, which normally pops up before every battle. This patch does only work with a RPG_RT.EXE file of RPG Maker 2003 v1.08.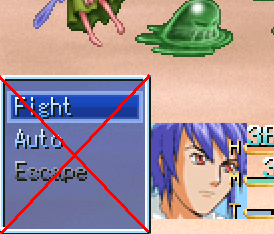 Download: NoAutoBattle-Patch v1.00
---
4 Responses to "New patch: RM2k3 NoAutoBattle-Patch"
Taylor says:

2010/04/03 at 7:13

Holy crap it doesn't even do a split second move. It doesn't even show up like it was never there.

I love it! It works with No Row too, which is even better.

Lordy says:

2014/06/20 at 12:56

This archive has a problem, it doesn't work.When i apply the patch with hyper patcher 2, it says this message:
"Das gewahlte patch-archiv enthalt keine patches fur ihre runtime-version."I m on the v1.08 of rpg maker 2003.

Cherry says:

2014/06/20 at 13:20

The message means that there is no compatible patch for your version in the archive. Since you say you have 1.08, it's most likely that the patcher was unable to detect your version (check the displayed version in the first tab). I assume that you changed your RPG_RT.exe' resources (icons, texts, splash screen). Please apply this patch on a file without these modifications and then reapply them.

Lordy says:

2014/06/23 at 14:54

Yes good !

It works ! I reinstalled rpg maker v1.08 without its extern composant (before composant transformed v1.08 to v1.09b) and i repatch no-auto-battle and all is OK.

Thanks !